Cathy Bradford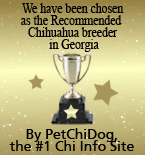 Welcome to Bradford's Chihuahuas
My primary goal is to raise QUALITY Chihuahuas that are healthy, happy and well socialized, so they can make you a lifetime companion to be cherished and loved as a family member.
I've put forth a lot of time & research towards the blood lines of my breeding program as you will see in the pedigrees of my parents.
I strive to produce both long and smooth coat apple head Chihuahuas that meet AKC breed standards.
NO expense is spared with the health and welfare of my pets. They go to the vet and are current on all shots. Every effort is put into the health and temperaments of my parents and puppies. My chihuahuas are born and raised in my home where they are loved and played with every day. I spend a lot of time loving and socializing my puppies from birth.
So rather you are looking for show quality or a companion/pet you'll find them here. I'm located in the great State of Georgia. I live within walking distance of the Historical Chickamauga Battlefield & just several minutes from Chattanooga, Tn.
I offer shipping with a pet Nanny on my puppies should you not be in driving distance. This way they'll be stress free and hand delivered to you.
In all ways acknowledge him, and he shall direct thy paths.
PROVERBS 3:6
Recent News
02-17-2023

**********************

WE HAVE NEW
PUPPIES
AVAILABLE NOW

PLEASE CHECK OUT THE NURSERY PAGE

***********************